As the recent season is wrapping up, let us look at Issa Dee's style evolution .
After ten compelling episodes, your Sunday rendez-vous with Insecure are ending. For the last two months, you followed Issa and her friend Molly as they with no shortage of laughs and relatable awkwardness navigated the currents of relationship, new jobs, and friendships. In Season 4, we see our characters slowly break away from their pattern of questionable choices and get to witness serious growth. And along with that? Some killer fashion moments. The plot, the dialogue with all its twists has already been diligently dissected by its loyal following but what about its fashion moments curated by costume designers Ayanna James- Kimani and Shiona Turini? They say that an image never lies. So if Issa is in the process of "glowing up", how did it translate to her style?
"I think [my job is to help] relate the character's story, to make it feel personal, so when the audience is watching they feel like, Oh, I know that person. That was the key in the choices I made for all of the characters. Issa's world is a lot more color and texture, playing with prints and patterns. – Ayanna Kimari, Former Insecure Costume Designer in People
Issa's Personal style: quirky with lots of prints
A quick glance at Issa Dee's looks through the seasons and you'll spot what makes up her favorite pieces: bold prints, cut out pieces, and provocative graphic tees. If anything,  Issa has never been shy with fashion and has worn every pattern imaginable from west africain prints to classic plaids. It's her ability to pair different prints and colours in one outfit that makes her looks so undeniably Issa. At first, you might reject the unsuspected pairings, but in a matter of time, the looks grow on you. You can't tell if it was a happy accident, a result of grabbing the first clean clothes she could find or simply an innovative fashion moment. It feels quirky and true to  Issa, the same person who free-style raps in front of the mirror to build her confidence or release her fears and frustrations.
Likewise, cut outs and fringes on a jacket or shirt are another way Issa injects her fun personality on what could have been an otherwise boring outfit. The Crepe Silk Fulani Blouse by black-owned brand Maki Oh is an example of that. The large cutout in the middle of the shirt shows off her toned abs and presents a fresh take on the crop top trend.
As the title suggests, the show is about Insecure Issa and through her appearance , that means that there is often a disconnection in her looks
Disconnection in her looks
Ultimately, as the title suggests, the show is about Insecure Issa, and through her appearance, that means that there is often a disconnection in her looks. Here the overlapping fabric can't help but bring unwanted attention to her lower abdomen and ruins the overall look. As costume designer Ayanna James explains in an interview with Racked, Issa wardrobe consist of thrift and vintage pieces as her "world is supposed to feel more lived-in, a lot of her stuff should've felt old." Which makes sense considering her nonprofit salary. While thrifting is a great way to collect unique pieces, a fatal mistake one can make is failing to pick clothes that fit your body.
The acid wash khaki print dress with the bright silver straps in season 1 is unflattering to her figure and wash down her skin tone. Coincidently, Issa wears it while she desperately attempts with little success to mend her relationship with Lawrence. Her outfits ultimately reflect the state she is in: lost and in search of direction. Both in her professional and love life.
Utimately, Issa is glowing-up
But in season 4 Lowkey distant, the acid wash prints get a redemption in a fitted midi dress worn by Issa during a business meeting. The NANUSHKA number sums up a shift in Issa's sartorial choices. Now, our beloved heroine has gained a sense of purpose in her life; she focuses on herself and sets on planning the best Block Party and parallels to that, her outfits now appear polished. Her professional network is rapidly expanding, and she is trying her best to refine her image along with it. Her fashion style remains authentic, but prints are more subdued and cohesive with the overall looks while she favors geometric cutouts that are sexy and flattering to her figure. She even explores different hairstyles and includes accessories that add depth to her outfits. In season 4's Lowkey Happy, Issa grace the screen in a rich red Thebe Magugu Safari Jacket beautifully cinched in at the waist with cut-outs exposing the neck and shoulders. Having recently joined the dating pool, it is fun to see our heroine experimenting with her sexy side. The tailored piece is in direction with Issa's new image: polished yet sexy and feminine.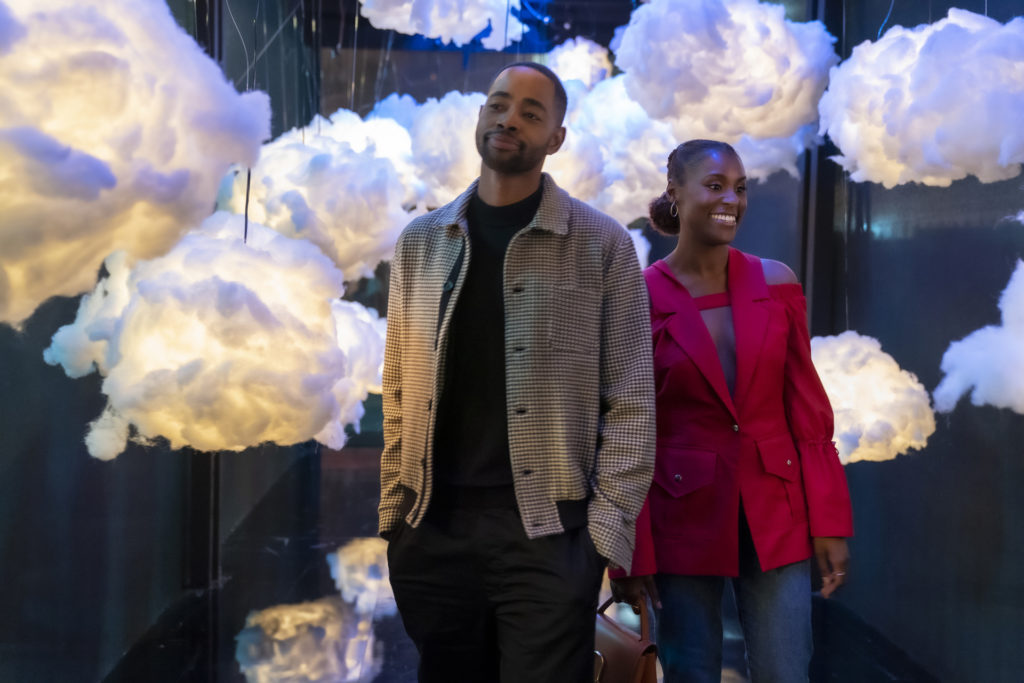 As Costume designer Shiona Turini explains in The Cut "We stuck to an aesthetic that feels authentic to her character, but elevated it. This season, as a reflection of her professional goal, she purchases — and then returns to Opening Ceremony — clothing that she thinks fits her ideal self. She's not yet where she wants to be, but she's making more conscious choices into the woman she's becoming.".
As viewers, we've all had similar episodes in our life where we've upgraded our style in anticipation of our ascension up the professional ladder. For Issa, this means that her style is finally growing out of its college-phase and moving towards a classier and more feminine look.
Comment and Share
What are your thoughts? Do you have any suggestions for another character style analysis?
Want more ?
Tune in the next week for Part 2: How graphic tees are used as political and social tool in Insecure.